Americans in Toulouse Member Spotlight 
Monthly close up on a beloved member of AIT so we can all get to know each other better. Contact us if you'd like to be featured in this section.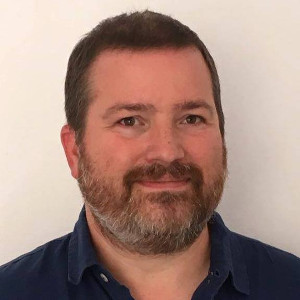 Hey, you!
Name: David Sargent
Home State: Utah
Occupation: Software Developer and Product Manager
Education/ Professional Background: BA in Linguistics (betcha didn't see that coming after seeing my occupation)
Member since: 2005
Lived in Toulouse since: 2005
Here with: Wife, Annie, and daughter, Marianne
Currently living in: Saint-Loup-Cammas (just north of Toulouse)
Oh, Toulouse!
Why here? My wife is from here.
How long do you plan on staying? Original plan was 3-5 years, now it's been 12+ and we're quite happy to stay as long as possible.
Where do you frequent in the city because it's just so great? La Halle aux Grains, a wonderful and unique venue for concerts of all types of music.
What should newbies know about Toulouse? Most of the world doesn't consider it touristy, but there are tons of fun things in and around Toulouse to discover and show to visiting friends and family.
Are you involved in other groups/ associations/ volunteer organizations? Yes, I sing with various choirs in the area.
Land that I love!
What do you miss most about the U.S.? Shopping and eating out at all hours.
What was the biggest culture shock/surprise for you coming here? Surprisingly, my wife, who was born and raised here, experienced the most culture shock. Things didn't always jive with the memories from her youth.
What do you love most about living abroad? Being so close to so many different countries and languages that I can discover in both business and personal travel.
What do you miss about France when you go back to the U.S.? The food.
How have you benefited as a member of AIT thus far? I've met some really great people. People that I would have never gotten to know if we'd all been in the U.S. together because we would have run in such different circles. However, being an expat is something we have in common and brings us together here in Toulouse.
These are a few of my favorite things!
What do you spend a lot of time doing outside of work/school? Biking, attending concerts (both as a spectator and a participant), and traveling.
What's your guilty pleasure? Coke Zero. I'm still an American.
What new hobbies have you picked up living here? Biking and acting as an amateur tour guide.
What would you like to do, but haven't gotten around to it yet? Traveling in an A380.
What special skills / talents do you have that you can share with the group? Come to a happy hour or another activity and find out!
Finally!
What events would you like to see in AIT this year? Well attended ones.
What quote would you like to leave us with? Being an expat is tricky because eventually you find you never quite fit in anywhere anymore…but it turns out that's actually a pretty fun way to live!